67 straight days of 9/11 on the road to what Trump wants, herd immunity that entails 6 million+ US deaths.
x
In 2019, Republicans convinced Trump to halfheartedly disavow his supporters after they went on a racist "send her back" chant about @IlhanMN, who's a U.S. citizen.

Will a single Republican even acknowledge Trump's similarly bigoted claims tonight about Omar? https://t.co/w86HG2OWwc— Chris Sommerfeldt (@C_Sommerfeldt) September 23, 2020
— Aaron Rupar (@atrupar) September 23, 2020
x
Trump cultists are in such a deeply abusive relationship that they cheer him as he kills them.
— Joshua Potash (@JoshuaPotash) September 23, 2020
Former FBI Assistant Director Frank Figliuzzi has pointed out that a while back, Bumble Bee came out strongly against Donald Trump's tariff and trade war, while its competitor StarKist came out in support of the tariffs.
— Sanho Tree (@SanhoTree) September 23, 2020
x
Tuna is too expensive for this. He would know that if he'd ever been in a grocery store.
— skapegote (@Kappie_123) September 23, 2020
x
Eat em. Don't throw em.
— Bumble Bee Seafoods (@BumbleBeeFoods) September 23, 2020
Trump, his children and several White House staffers have repeatedly retweeted QAnon-linked content online, according to researchers who track the spread of QAnon. As of late August, Trump alone had amplified social media accounts promoting QAnon content at least 216 times, Media Matters reported.
Last month, Trump made his most extensive comments to date when asked about QAnon during a press briefing at the White House.
"Well I don't know much about the movement, other than I understand they like me very much — which I appreciate," he said, adding, "I've heard these are people that love our country."
A reporter pressed him about "this belief that you are secretly saving the world from this satanic cult of pedophiles and cannibals — does that sound like something you are behind or a believer in?"
"Well, I haven't … heard that," Trump replied. "But is that supposed to be a bad thing or a good thing? I mean, you know, if I can help save the world from problems, I'm willing to do it. I'm willing to put myself out there."
x
"You can't give your wife a kiss goodnight. You have to wear a mask" — Trump mocks public health measures that Democratic governors have implemented to try to slow the spread of coronavirus pic.twitter.com/U3GVg9qAGT

— Aaron Rupar (@atrupar) September 23, 2020
x

According to AP, the American death toll from COVID-19 is equal to the number killed on 9/11…FOR 67 STRAIGHT DAYS.
— Stephen King (@StephenKing) September 22, 2020
— Brian Fallon (@brianefallon) September 23, 2020
Donald Trump claims coronavirus 'affects virtually nobody'
— Washington Post Opinions (@PostOpinions) September 23, 2020
In short, Trump has been quite open about his decision to avoid conflict with China to secure a trade deal, which he saw as a winning political prize. Trump
was at it again
Monday on "Fox & Friends." When asked about a report that China lied to him about covid-19, he immediately jumped to his trade deal. He had to be prompted to comment on China's responsibility for the
almost 200,000 American deaths
from the disease, about which he finally said, "They could have stopped it."
Trump's spin cannot change the record. Say "China," he says "trade deal." That election-year prize, not a confrontation with China over covid-19, has clearly dominated his thinking since January. He weighed the benefits of a trade deal against the potential cost to human life (of which he was well aware, as he
told
The Post's Bob Woodward). For him, it was not even close. Voters, I am certain, will not see the trade-off the same way.
x
Basically, Trump has now explicitly declared that he's counting on the 9th justice whom he nominates to help him suppress millions of votes. That seems newsworthy. https://t.co/ek8Qm9vuGy— Greg Sargent (@ThePlumLineGS) September 22, 2020
x
Trump: "I like Putin, he likes me. You know, we get along."
— Kyle Griffin (@kylegriffin1) September 22, 2020
x
As member of @FBI Counterintelligence & Cyber Division team that helped standup National Cyber Investigative Joint Task Force – NCIJTF, make no mistake. The threat from Russia to our election & democracy is real, as well as sweeping & systematic. That description sounds familiar? https://t.co/wFmoCUKyhN
— Todd Rowley🇺🇸🌎 (@ToddRowleyPA13) September 23, 2020
x
Let's talk about Trump's buffoonery and not his connections to Russian Organzied Crime, right Ms. Duranty?
— Andrew C Laufer, Esq (@lauferlaw) September 23, 2020
<
p class="is-empty-p">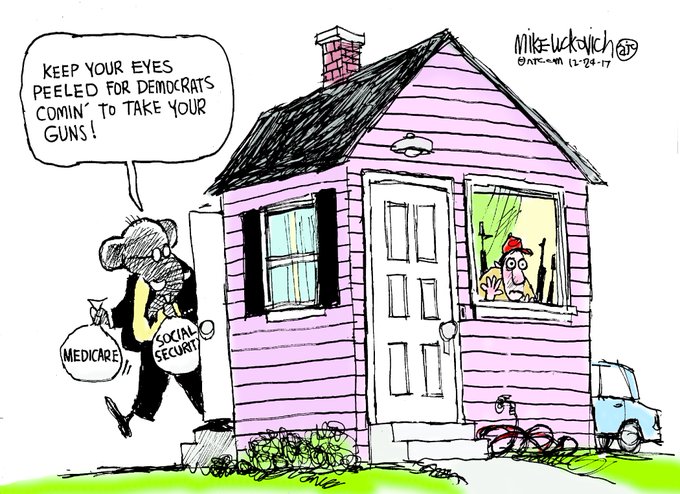 "You're not mopping fast enough. (Laughter) That's a socialist mop. (Laughter and applause) Grab a mop — let's get to work." – Barack Obama (2009); "Soyez réalistes, demandez l'impossible!"