Detroit LiveBlog Community Live Bloggers: Biden and Obama together again on stage with #StevieWonder
3 min read
Biden-Obama speech scheduled at 530pm ET. A Stanford study shows Trump rallies have killed 700 people so far.
Trump remains 10% behind Biden nationally but folks still need to go to the polls. GTFO and VOTE
— Brendan Gutenschwager (@BGOnTheScene) October 31, 2020
In PBO's Flint speech:
"Remember when Republicans were saying let Detroit go bankrupt? You remember that?" Obama said. "Now they might as well be saying let America get Covid. Cuz that's how they're asking."

"If Trump were focused on Covid from the beginning, cases wouldn't be reaching new record highs across the country," Obama continued, referring to the new world record for daily cases that the U.S. set on Friday.

"Some of the places he holds rallies have even seen new spikes after he leaves town. There was just a study by Stanford University, that just came out, showing thousands of people are likely to have gotten sick because of these rallies he's holding," President Obama said, referencing a study that suggests a set of Trump rallies led to 30,000 cases and 700 deaths.

"What is his obsession, by the way, with crowd size? You noticed that?" Obama asked, in a mocking tone. "He's always worried, this is the one measure he has of success."

"He's still worrying about his inauguration crowd being smaller than mine," Obama said, his voice now occasionally cracking with laughter. "It really bugs him, he talks about, he's still talking about that."

— Carl Quintanilla (@carlquintanilla) October 31, 2020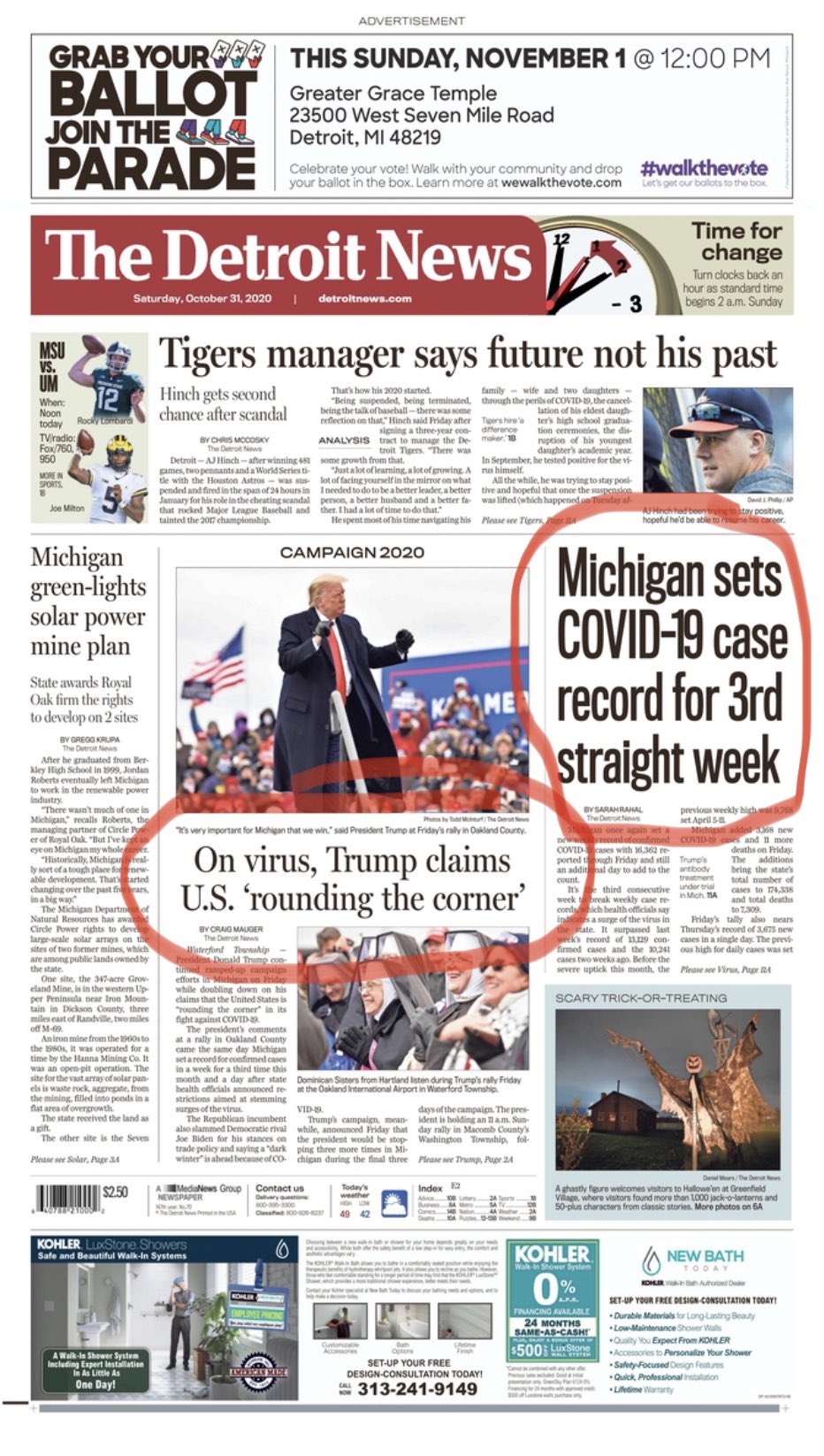 — The Hill (@thehill) October 31, 2020
— Michael Beschloss (@BeschlossDC) October 31, 2020
Trump unhingery continues:
"Under Biden, there will be no school, no graduations, no weddings, no Thanksgiving, no Christmas, no Easter, no Fourth of July."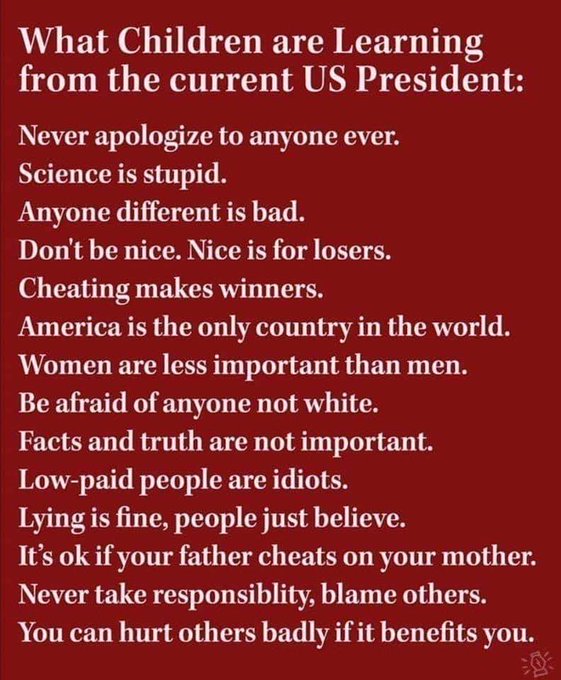 — Mark Ruffalo (@MarkRuffalo) October 31, 2020
— Don Winslow (@donwinslow) October 31, 2020
Darn messaging (18-wheel semiosis)
— TRUMP to HELL (@theonly92540262) October 31, 2020
— Pete Buttigieg (@PeteButtigieg) October 27, 2020
annieli
·
"Let's get it!" Stevie Wonder did an opening set. We're waiting for Obama and Biden — the entourage has included Senator Gary Peters and former governor Jennifer Granholm in the prior appearance at Flint, Michigan. There was an intervening stop at a church in Bloomfield Hills which seemed unscheduled (Secret Service detail was much more vigilant).
Michigan Governor Gretchen Whitmer opens the event, comments on the cruelty and incompetence of the Trump administration. Followed by Tarence Wheeler, activist from Detroit: "You've got have skin in game …put your hands on your steering wheel" introduces PBO to the sounds of U2.
Urges Michiganders to vote now. "The Presidency reveals who you are". goes to his stump speech on Trump, hits him on on controlling the pandemic. PBO cites Trump as Alfred E. Newman character's tag line of "What, me worry". Compares Canadian mortality rate to the USA's. "This is not a sporting event, This is life and Death". Mocks Trump's net job loss, compares him to Hoover. Reminds us of the 60 times the GOP attacked ACA. We all miss PBO.
There was a disruption when the campaign feed got picked up by the networks.
— MSNBC (@MSNBC) October 31, 2020
"Keep voting until we get it right." Obama now reaches his peroration (he's so good at this, unlike Trump). Brings on Joe Biden, who does the acknowledgements of all those Democratic politicians. reminds us that PBO's kids and Biden's grandkids attended the same high school.
"Time for Donald Trump to pack his bags and go home"
— G. Elliott Morris (@gelliottmorris) October 31, 2020
— Rex Chapman🏇🏼 (@RexChapman) October 31, 2020
— Don Winslow (@donwinslow) October 30, 2020
<
p class="is-empty-p">