(dangerous, unfit) Trump lied, (195,000) Americans died, Why did he call it a hoax if he's not lying
Trump's flailing and the lies just keep on coming.
— Keith Boykin (@keithboykin) September 9, 2020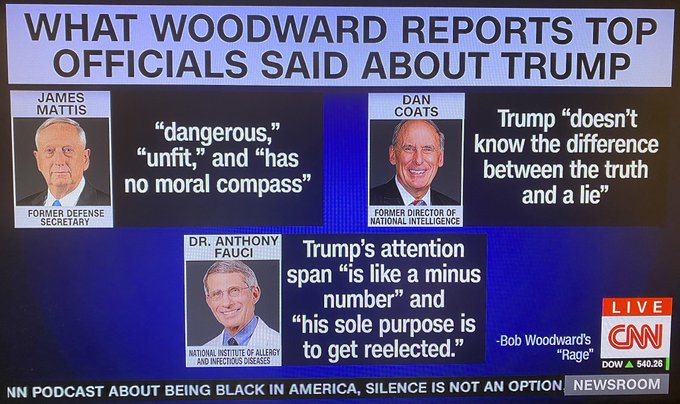 — Joe Lockhart (@joelockhart) September 9, 2020
And now, more stupidity.
The U.S. government on Monday will stop conducting enhanced screening of passengers on inbound international flights for

COVID-19, Yahoo News has learned.

The screening operations have been held at select airports since January, when the first cases of the disease began to emerge from Wuhan, China. Since March, incoming international flights from select high-risk countries, including much of Europe, China and Iran, among other regions, have been funneled through 15 designated airports in the United States.

As of Monday, however, international flights will no longer be funneled into select airports for screening purposes and all screenings will come to a halt, according to communications and sources. All screenings and rerouting of select international flights will cease at exactly 12:01 a.m. on Monday, Sept. 14.
— Philip Bump (@pbump) September 9, 2020
— Jared Yates Sexton (@JYSexton) September 9, 2020
— Devin Nunes' cow 🐮 (@DevinCow) September 9, 2020
— Kelly Weill (@KELLYWEILL) September 9, 2020
— Vicky Ward (@VickyPJWard) September 10, 2020
— Morgan J. Freeman (@mjfree) September 9, 2020
— MeidasTouch.com (@MeidasTouch) September 10, 2020
<
p class="is-empty-p">