Boulder not better after yesterday's killing spree
There is supposed to be another presser at 1030am ET in Boulder. The shooter was injured. The details will simply get worse. At least three people were shot in the street presumably as the shooter entered the store. The location is south of the university campus and the central city in a subdivision called Table Mesa.
– Boulder Police identified the deceased officer as Eric Talley, 51, who had been with the department since 2010

– Officer Talley was one of the first officers on the scene- Police won't release the names of the victims until families have been notified

– The investigation will take no less than five days to complete, according to the police

– Next update from the police will come on Tuesday morning
"It seemed like all of us had imagined we'd be in a situation like this at some point in our lives." — James Bentz, 57, who said he was inside the store when the shooting happened. https://t.co/zBjIVLFPv1

— The Denver Post (@denverpost) March 22, 2021
the father of slain officer Eric Talley described him:

"He had seven children.

"The youngest is 7 year old.

"He loved his kids and his family more than anything.

"He joined the police force when he was 40 years old."
https://t.co/kFOs3fWu8C

— John Harwood (@JohnJHarwood) March 23, 2021
To Officer Eric Talley and the nine other souls the Boulder shooter took today, and to all the victims' families, let us offer not just our grief but our anger and our commitment to do all we can to get firearms suited to mass slaughter off our streets https://t.co/4pY4W2gXl1

— Laurence Tribe (@tribelaw) March 23, 2021
Breaking: VIDEO—Police in Boulder appear to have one suspect who is bleeding heavily from his right thigh in custody at the King Soopers active shooting scene. pic.twitter.com/zUFu2CFxTq

— Christopher Wiggins (@CWNewser) March 22, 2021
1 Hour in to the Boulder Colorado King Soopers shooting, two men are taken from the store, one in cuffs and a bloody leg, and another man without cuffs seem to be escorted off scene. This was before discovery of the 'suspect in SUV'. #BoulderColorado #kingSoopers pic.twitter.com/C35KmM2RPw

— Railburn (@MidniteRunnin) March 23, 2021

"The city of Boulder enacted bans on assault-style weapons and large-capacity magazines in 2018. But a state district court judge ruled this month that Boulder could not enforce the bans."
A judge ruled this month that Boulder, Colorado, could not enforce bans on assault-style weapons and large-capacity magazines. It was not known whether any weapons covered by the bans were involved in the grocery store shooting on Monday.https://t.co/e8W1qKmk77

— The New York Times (@nytimes) March 23, 2021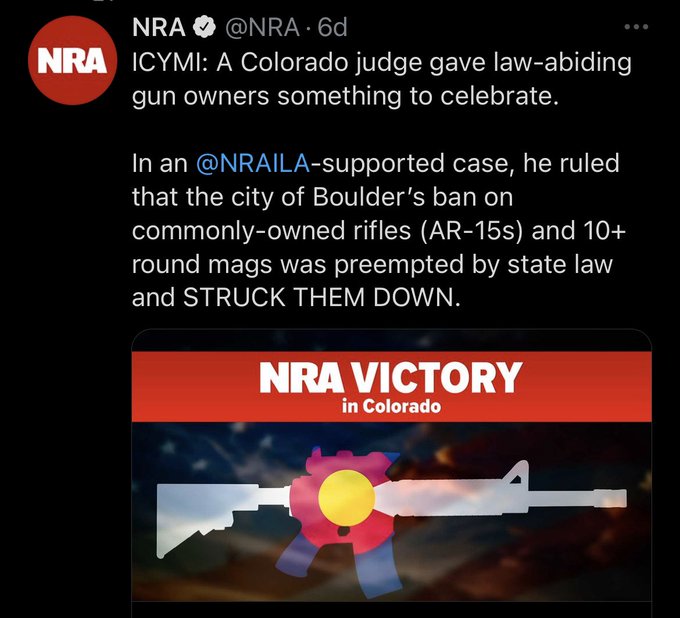 Imagine tweeting this right after a mass shooting. pic.twitter.com/9SGAViDNiQ

— ian bremmer (@ianbremmer) March 23, 2021
A gunman killed 10 people Monday afternoon after opening fire at King Soopers grocery store in Boulder, Colorado. Little is known about the victims yet, other than one Boulder police officer, 51-year-old Eric Talley, was among the dead. The shooting started around 2:30 p.m. when witnesses said a man with a rifle entered the supermarket and without saying a word opened fire on customers. Details are still unknown about the shooter and the motive for the mass shooting, though the gunman was taken into custody and treated for minor injuries.

Witnesses described a chaotic scene in the supermarket, which sits two miles from the University of Colorado's Boulder campus. The scene played out over several hours with local police lifting a shelter in place order at 5:41 p.m. local time. Two roommates told the Denver Post they were buying pizza at the self-checkout area when the shooter entered the store. "He just came in and started shooting" without saying a word, they said. Adding that the gunman "let off a couple of shots, then was silent, and then he let off a couple more. He wasn't spraying."
Police apprehended the gunman who witnesses say walked in and opened fire on customers without saying a word. https://t.co/edTOyJLm0r

— Slate (@Slate) March 23, 2021

Several eyewitness videos have some strange recordings including dead bodies prior to the arrival of police, and even after the arrival of police there seemed to be some disorganization.
Ryan Borowski, 37, had gone to King Soopers to grab a bag of chips and a soda.

Borowski said he was walking up to the checkout area at about 2:30 p.m., when he heard a loud bang.

"My first hope was that it was an employee who dropped something," he said. Then came the second bang. "By the third bang I was running. It was bang, bang, bang, bang, bang! I was thinking around eight."

He added: "I saw a woman shorter than myself with a terrified look on her face running toward me, and at this point I turned, and people were saying things like: 'Run, run! Go, run!' Everybody was running, and everybody was scrambling."

Borowski and a group of customers and employees ran toward the back of the store in a line, placing their hands on top of one another's backs so they wouldn't leave anyone behind, he said. "Don't stop! Keep going!" he recounted telling people.