There was that perceptible 'splaining tone which is much like Mike Pence calling his wife "Mother". Pence did himself no favors trying to bully the moderator, Susan Page. And Trump claims he received from COVID, "a blessing from God". The real blessing is that KO is back on the politics beat:
x
NEW VIDEO: "I think this was a blessing from God that I caught it." In fact Trump is a mass murderer whose return to the White House means 150,000 more of us will die of Covid-19 this year. The premiere of my new series: The Worst Person in the World https://t.co/R8ANjFFcg9 pic.twitter.com/GxV6aZiz1n— Keith Olbermann (@KeithOlbermann) October 8, 2020
Chelsea Janes @chelsea_janes "A white man just told a Black woman that saying there is systemic racism in the criminal justice system is "an insult" as a fly landed on his head, and that is all I'll say about that."

x

"She was trying to hold back because she didn't want to be seen as an angry woman and Pence was playing up the patronizing CEO thing and I promise you every woman in America noticed."
– My wife just now.
— Mikel Jollett (@Mikel_Jollett) October 8, 2020
x
The needle Kamala threaded tonight as a black woman needs to be acknowledged. How we're perceived is based on a short list of "permissible" behavior. She was strong, uncompromising and authentic without falling for bait meant to cast her as an "angry black woman." I'm in awe.
— Natasha Rothwell (@natasharothwell) October 8, 2020
x
"JUST LIE BACK AND TAKE IT." —Megyn Kelly, 2020
— Cultural Marxism, PhD (@polusyroy) October 8, 2020
x
So many women in America, regardless of party, know how it feels when a man condescends and interrupts. @Mike_Pence constant interruptions and disrespect to both @KamalaHarris & the Moderator who is also a women was beyond frustrating and insulting. #VPDebate2020
— Rosie Perez (@rosieperezbklyn) October 8, 2020
x
Pence demanding that Harris answer *his* own personal questions when he won't even answer the moderator's is gross, and exemplary of the gender dynamics so many women have to deal with at work.
— Alexandria Ocasio-Cortez (@AOC) October 8, 2020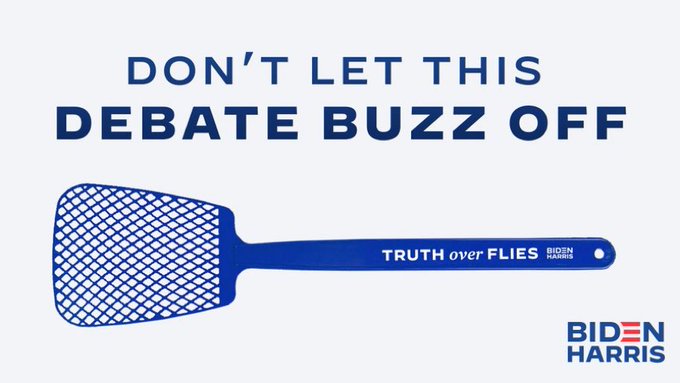 Right off the bat, Harris effectively made the case against Trump and Pence's response to the pandemic, citing statistics to reflect the administration's colossal failures. Asked what the Biden administration would do to control the pandemic, Harris pointed to the reality that the president and Pence, the leader of the coronavirus task force, knew about the severity of the threat in January and didn't take appropriate action. After addressing the more than 200,000 Americans who have died from COVID-19, Pence had little to offer but empty condolences. "You'll always be in our hearts." Rather than answering for the administration's failed pandemic response, Pence repeatedly referred to "the American people," pinning responsibility onto individuals as the White House has throughout the pandemic. He emphasized freedom of choice, regardless of whether those choices are in the interest of public health. "Let's talk about respecting the American people," Harris shot back. "You respect the American people when you tell them the truth." She concluded that, based on their bungling of the pandemic, "this administration has forfeited their right to reelection."

Harris's responses to being interrupted by Pence—something that happened often—were standout moments. "Mr. Vice President, I'm speaking, ok?" Harris said at one point. "If you don't mind letting me finish, we can have a conversation."

Pence also tried shifting the focus to China, twice praising Trump's ineffective travel ban at the beginning of the pandemic. "Whatever the vice president is claiming the administration has done, clearly it hasn't worked," Harris shot back. When Harris said she would only take a vaccine if experts such as Dr. Anthony Fauci approved it, Pence offered a distorted reading of her remarks. "Stop playing politics with people's lives," he said, adding that Harris's so-called "undermining" of a vaccine is "unacceptable." Pence avoided answering whether voters have a right to know about Trump's medical history, while Harris made a strong pivot from Trump's lack of medical transparency to his unprecedented refusal to release his tax records. "It would be really good to know who the commander-in-chief owes money to," she said, noting the New York Times' investigation revealing he owed more than $400 million.

x

"Let's talk about respecting the American people," Harris shot back. "You respect the American people when you tell them the truth." https://t.co/bY6cmoOA1f

— VANITY FAIR (@VanityFair) October 8, 2020

— Kyle Griffin (@kylegriffin1) October 8, 2020
x
Biden has again reached a new level of peak support in the RCP national avg and, at +9.7, is close to his peak lead.

High/low points for Biden in RCP, after becoming presumptive nominee:

Peak lead: +10.2 (6/23)
Nadir: +4.4 (5/8-12)
Peak support: 51.6% (10/7)
Nadir: 46.8% (5/10) https://t.co/0a8VcanRbV

— Bill Scher (@billscher) October 8, 2020
— Cory Elia (@TheRealCoryElia) October 8, 2020
— Joe Biden (@JoeBiden) October 8, 2020
— Data for Progress (@DataProgress) October 7, 2020
— The Hill (@thehill) October 7, 2020
x
MARYLAND
Biden 61% (+31)
Trump 30%
Jorgensen 2%
Hawkins 2

Goucher College, LV, 9/30-10/4
— Political Polls (@Politics_Polls) October 8, 2020
x
Unclear why the Biden campaign doesn't just tell Mayor Pete to go on Fox News every day between now and the election https://t.co/JEQvlBPdld
— Sam Stein (@samstein) October 8, 2020
x
"As far as we know, the President is the only person in the world to have received this combination of treatments."

NYT also estimates it costs ~ $1.5 million for the Regeneron antibody cocktail.

➡️ Special treatment for he, but not for thee. #COVID19https://t.co/R5yXrBwYm8
— Eric Feigl-Ding (@DrEricDing) October 8, 2020
x
Cupp: I know Mike Pence, I've met Mike Pence, I've interviewed Mike Pence and at one time I found him very impressive. Tonight, he made my skin crawl pic.twitter.com/NiDS24i7dh
— Acyn Torabi (@Acyn) October 8, 2020
— MeidasTouch.com (@MeidasTouch) October 8, 2020
— NotoriousGG (@NotoriousGG77) October 7, 2020
<
p class="is-empty-p">
"You're not mopping fast enough. (Laughter) That's a socialist mop. (Laughter and applause) Grab a mop — let's get to work." – Barack Obama (2009); "Soyez réalistes, demandez l'impossible!"