Last updated on February 28, 2021
Statue of the "other guy" arrives at CPAC, the annual owning the libs festival and meat market.
The Conservative Political Action Conference (

CPAC

) is underway in

Orlando

,

Florida

, opening with a 2020 election conspiracy supercut, a video heralding

cancel culture

"victim"

Gina Carano

and a

gold statue of ousted president Donald Trump

raising eyebrows in the Hyatt Regency lobby ahead of his headline speech on Sunday.

Mr Trump is widely expected to announce a 2024 presidential run during his address to the four-day gathering – described as "Woodstock for election liars" by CNN anchor

Anderson Cooper

– a prospect dismissed by his White House successor

Joe Biden

, who has said he will not be paying attention.

Friday's session has already been hit by controversy after members of the crowd booed when asked to wear their Covid face masks by organisers. Florida's govenor

Ron DeSantis

kicked off proceedings by declaring his state was "open for business", Texas senator

Ted Cruz

mocked Democrat

Alexandria Ocasio-Cortez

and

Josh Hawley

and

Donald Trump Jr

are due to take to the stage later.

Just as critically, the themes of the conference — that Joe Biden "stole" the election and that conservatives are somehow being "canceled" by shadowy liberal forces that secretly control everything — align with the same themes that drove the insurrection and Trump's defenses of his behavior.

"The conference, organized and sponsored by the American Conservative Union, will even keep alive Trump's false claims of election fraud with several panels on the topic with names like 'Other Culprits: Why Judges & Media Refused to Look at the Evidence,' 'The Left Pulled the Strings, Covered It Up, and Even Admits It' and 'Failed States (PA, GA, NV, oh my!),'" NPR reports. "One panel will discuss whether tech companies are 'colluding to deprive us of our humanity.' One speech will explore what to do when a social media network 'de-platforms' a conservative by deleting his account," David Weigel of the Washington Post reports. Even the theme of the conference is "America Uncancelled."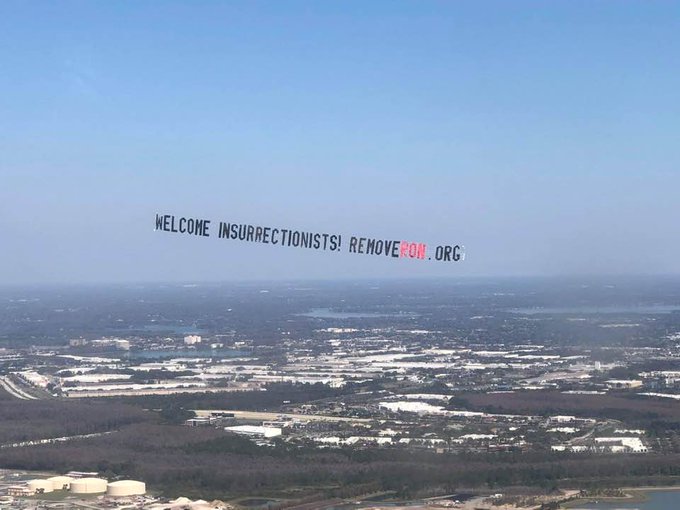 Ted Cruz, at CPAC, jokes about his decision to abandon his constituents in their time of need to go on vacation: "Orlando is awesome. It's not as nice as Cancun, but it's nice."

There are still major plumbing and supply chain issues in Texas affecting recovery efforts.

— Kyle Griffin (@kylegriffin1) February 26, 2021
"AOC is telling us she was murdered," Cruz "jokes" to the CPAC crowd

This was 3 days after saying people shouldn't "be assholes" (a reference to alleged friends sharing texts w reporters about Cruz family going to Cancun during the deadly storm in Texas)….

— Jake Tapper (@jaketapper) February 26, 2021
John Boehner has been going off script while recording the audio version of his new memoir, using expletives and asides not in the book — such as grumbling, "Oh, and Ted Cruz, go fuck yourself." w @alaynatreene
https://t.co/EQkYcKfzGh

— Jonathan Swan (@jonathanvswan) February 26, 2021
Wow. Right Side Broadcasting cut away from the big lie CPAC panel discussion so hosts could read a disclaimer protecting the network from legal liability. pic.twitter.com/Gd170VZUHC

— Aaron Rupar (@atrupar) February 26, 2021
Sen. Tom Cotton (R-AR) bemoans liberal policies for why they're in Florida and not DC/Maryland: "Maybe if CPAC had promised to burn down buildings and tear down statues, they'd have let us up there."

(For the record: Indoor conferences aren't allowed but outdoor gatherings are.) pic.twitter.com/IBFydsGsnZ

— The Recount (@therecount) February 26, 2021
Tom Cotton's speech is fascinating. It's all about violence in the streets and mobs and backing the blue but it just totally ignores the insurrection last month.

It's like he wrote it on January 5th and then decided not to update the text at all.

— Tim Miller (@Timodc) February 26, 2021
Two Americas: Those who think a president can say things that are blatantly false and everyone else has to act as if they're not false because his followers believe his falsehoods, and those who think factual reality is real no matter what any politician happens to say. https://t.co/66VXZZ0MvA

— Nicholas Grossman (@NGrossman81) February 26, 2021
---
The Politicus is a collaborative political community that facilitates content creation directly on the site. Our goal is to make the political conversation accessible to everyone.
Any donations we receive will go into writer outreach. That could be advertising on Facebook, Twitter, and Reddit or person-to-person outreach on College campuses. Please help if you can:
---