at CPAC, an Old Pharaoh will proclaim himself GQP leader and presumptive 2024 candidate
Old Pharaoh Trump's going to spew more nonsense this weekend, including the Big Lie. Trump will make his first public major public appearance to grift for the next pyramid scheme.
CPAC 2021 is set for Feb. 25-28 in Orlando, Florida, where the lineup of far-right speakers will include former President Donald Trump as well as former Secretary of State Mike Pompeo, Sen. Ted Cruz of Texas, Florida Gov. Ron DeSantis, Former White House Press Secretary Sarah Huckabee Sanders and South Dakota Gov. Kristi Noem. Pharaoh was scheduled to speak on Sunday, Feb. 28 — the last day of the four-day event — at a session called "Please Check the Number and Dial Again: Doubt, Dysfunction, and the Price of Missed Opportunities." Feb. 28 is also the day that Trump is scheduled to speak.
Once you open the door to the Big Election Lie, next comes Q Anon, and then the traditional bigoted conspiracy theories rooted in age-old hatreds. It's a continuum. Congrats to everyone involved! https://t.co/GXdBVS8hJy

— Jake Tapper (@jaketapper) February 22, 2021
canceling someone from an event where the theme is America needs to stop canceling people

According to Hananoki, Pharaoh has "promoted the QAnon and Pizzagate conspiracy theories" and made the false claim that vaccines for COVID-19 will "alter your DNA." And he has described Judaism as a "complete lie" that is "made up for political gain" and posted that "all the censorship & pedophilia on social media is being done by Israeli Jews." Pharaoh, Hananoki notes, has posted that "all of these big tech (companies), media, & social media platforms are controlled by CCP & Israel through Jewish CEO & corrupt Democrats" — and he has even attacked far-right radio host Ben Shapiro for being Jewish.

Last February, the Conservative Political Action Conference (CPAC) featured then-President Donald Trump memorably groping an American flag as he gave himself an "A-plus-plus-plus" grade for his handling of the coronavirus pandemic ("Everything is under control"). The 2020 conference also featured a prankster disguised as Trump interrupting then-Vice President Mike Pence. That prankster turned out to be Sacha Baron Cohen, who was filming a bit for his then-secret "Borat" sequel.
There are seven panel discussions at the CPAC conservative conference on, quote, "protecting elections." Three of the subtitles: "The Left Pulled the Strings, Covered It Up, and Even Admits It." "Failed States (PA, GA, NV, oh my!)" "They Told Ya So: The Signs Were Always There." pic.twitter.com/ANl2UQRLih

— Daniel Dale (@ddale8) February 22, 2021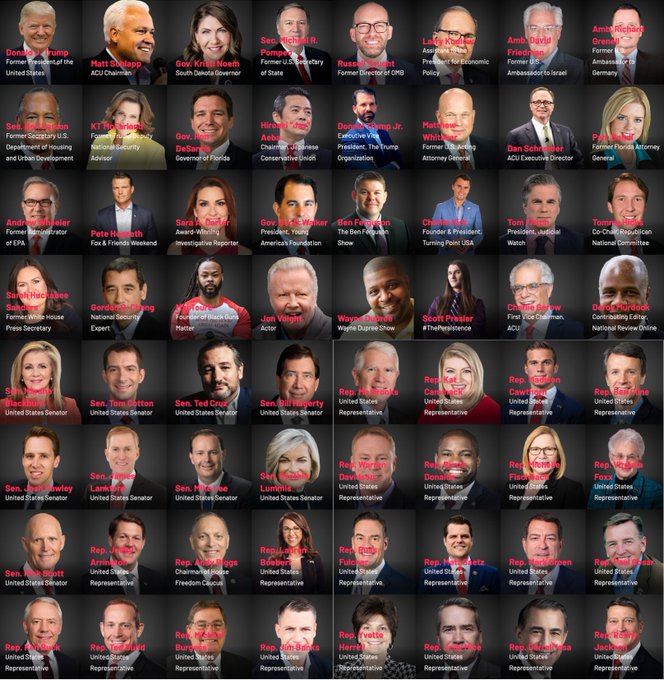 https://twitter.com/CuomoPrimeTime/status/1364049623355170816?ref_src=twsrc%5Etfw