as if David Brooks couldn't get worse
3 min read
David Brooks latest experiment in detoxified masculinity is called:
Why Trump Voters Stick With Him: An imagined conversation with Flyover Man.
Unfortunately, like most of his columns, the vague generalizations of non-coastal populations resembles a sophomoric version of the NY Times's attempts to sample Trump voters' opinions. This time the caricature of "flyover country" as the Trumpian "forgotten men" seems strangely anachronistic, even for Brooks.
There are cultists who vote for Trump, not Trump voters.
Brooks still imagines himself a centrist who confuses "moderate" ideologies with median voters and believes himself to be a true conservative, because Trump is merely a "sociopath". One imagines Brooks being hired to write the remake of Big Trouble. because Dave Barry knows it would be a fool's errand.
In this column I pass along what a variety of Trump voters are saying in private about impeachment. Some readers are reacting as if it's immoral to try to understand how the other side is thinking. https://t.co/B5z9SymUL6

— David Brooks (@nytdavidbrooks) October 4, 2019
Flyover Man: I haven't really had time to look into it. There's always some fight between Trump and the East Coast media. I guess I just try to stay focused on the big picture.
The big picture is this: We knew this guy was a snake when we signed up. But he was the only one who saw us. He was the only one who saw that the America we love is being transformed in front of our eyes. Good jobs for hard-working people were gone. Our communities in tatters. Our kids in trouble. I had one shot at change, so I made a deal with the devil, and you'd have made it, too.
Nothing in this impeachment mess makes me rethink this bargain. If people like you are unable to acknowledge my dignity and see my problems, I'll stay with Trump.
F.M.: Fine. Bottom line: I would be open to impeachment if you cared about my problems. I'd be open if all those silent Republican dissenters in the Senate had given me some G.O.P. alternative candidate who speaks our language and addresses our issues. I'd be open if there was a moderate Democratic Party that I thought deserved a shot. But I only see Democrats who'd make everything worse: Open the border! Socialism! More power to Washington! You could have paid attention to the forces driving Trumpism, but you ignored us.
So please don't ask us to sign up for our own obliteration or support your impeachment. This is about identity and pride.
Here's a confession. I used to think Trump was a jerk. Now, after three years of battle, I see him as my captain. He deserves my loyalty, thick and thin.
See ya' in hell, brother.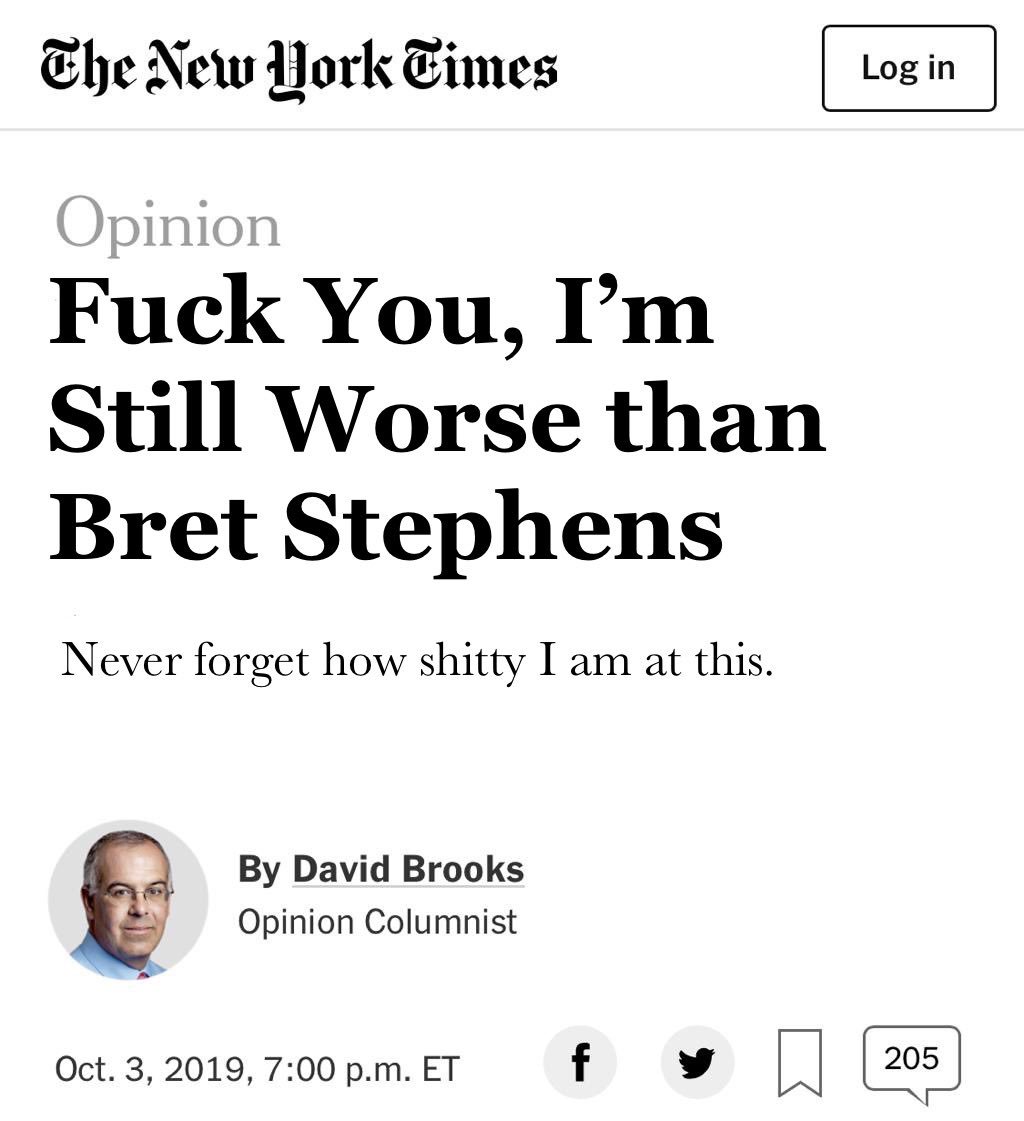 https://twitter.com/LionelCosgrove1/status/1179994914052083712?
David Brooks has lived his entire adult life in a series of major cities. He sees 'flyover people' as zoo animals on which to project his parochial fairytale.
https://twitter.com/LionelCosgrove1/status/1179994914052083712?
Worse than 1930s interview w/ Prof Lowell, as in observatory, about Martians building canals? Worse than Judy Miller's 2003 nonsense about guy in baseball cap showing our soldiers where the mythical weapons of mass destruction were made in Iraq?
Charlie, this I gotta read.

— David Cay Johnston (@DavidCayJ) October 4, 2019
Worse than 1930s interview w/ Prof Lowell, as in observatory, about Martians building canals? Worse than Judy Miller's 2003 nonsense about guy in baseball cap showing our soldiers where the mythical weapons of mass destruction were made in Iraq?
Charlie, this I gotta read.

— David Cay Johnston (@DavidCayJ) October 4, 2019
The imagined Trump voter in David Brooks's column sounds a lot more like David Brooks, and seems more focused on David Brooks's long-running concerns, than most Trump voters I've met.

— Ezra Klein (@ezraklein) October 4, 2019
The imagined Trump voter in David Brooks's column sounds a lot more like David Brooks, and seems more focused on David Brooks's long-running concerns, than most Trump voters I've met.

— Ezra Klein (@ezraklein) October 4, 2019
David Brooks wrote @nytimes column arguing for the need to listen to Trump voters.

Here's my argument why we really don't need to pic.twitter.com/dXGvG6usBY

— Pat Bagley (@Patbagley) October 4, 2019
I'm waiting for David Brooks to invent an entire language for his imaginary characters, like Tolkien

— TreasonousStirHat (@Popehat) October 4, 2019