#ArmsforDirt: 13 minute phone call between Rudy and OMB and possible 4 articles of impeachment
Darn that "Stark evidence of misconduct", the House Intelligence committee releases their report and MSNBC reports that there may be as many as 4 articles of impeachment, one of which will incorporate the Mueller report.
THE TRUMP-UKRAINE IMPEACHMENT INQUIRY REPORT

Report of the House Permanent Select Committee on Intelligence, Pursuant to H. Res. 660 in Consultation with the House Committee on Oversight and Reform and the House Committee on Foreign Affairshttps://t.co/EVLYVpuLKA

— House Intelligence Committee (@HouseIntel) December 3, 2019
Darn those phone logs…
"Later that day, Mr. Giuliani had three phone calls with a number associated with OMB, and 8 calls with a WH number…Later that evening, the State Department phoned Amb Yovanovitch and abruptly called her home because of "concerns" from "up the street" at the White House." pic.twitter.com/E8oO60R1Hm

— Meridith McGraw (@meridithmcgraw) December 3, 2019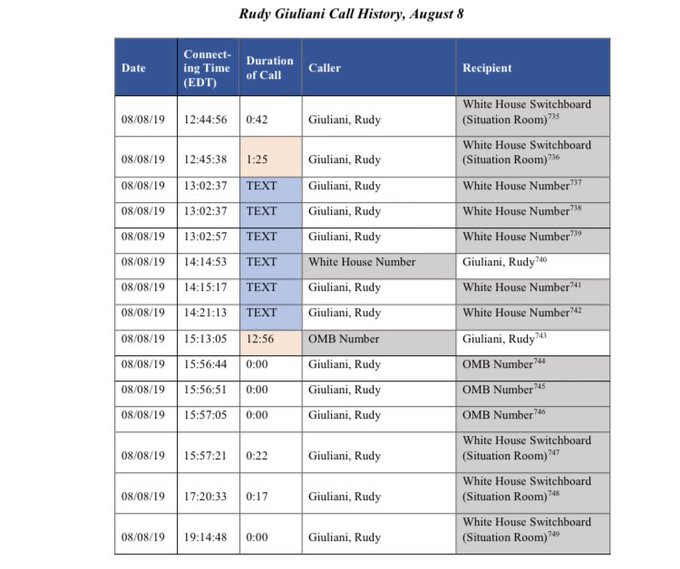 GORDON SONDLAND: "Yes, there was a quid pro quo between Mr. Trump and the president of Ukraine; and "everyone was in the loop" about it, including the vice president, the secretary of state and the White House acting chief of staff." – WP 11/20/19
https://twitter.com/gregpmiller/status/1201953824510038019?
Nunes as fact-witness…
Here's a handy chart of Devin Nunes' calls with Rudy Giuliani on April 10, according to docs produced to HPSCI by AT&T. pic.twitter.com/J8s8dHgY9n

— Natasha Bertrand (@NatashaBertrand) December 3, 2019
More calls between Devin Nunes and Lev Parnas, including one that lasted 8 minutes on April 12. pic.twitter.com/ghBOKKHohc

— Natasha Bertrand (@NatashaBertrand) December 3, 2019
Lordy there are tapes!
Lordy! https://t.co/Z6VIOdP4kX

— Prof Michael E. Mann (@MichaelEMann) December 3, 2019
This is fascinating, as flagged by ⁦@KatyTurNBC⁩ and ⁦@AriMelber⁩ as I sit on tv w them: ⁦@RudyGiuliani⁩ was in contact with OMB. pic.twitter.com/UwYD4CZffy

— Jake Sherman (@JakeSherman) December 3, 2019
And so…#ImpeachmentReport validates @TheViewFromLL2's analysis👇

(Note also how Minority's Report backs off the purported 'no quid pro call' mentioning it in passing.)

The call that Trump had touted as exculpatory turns out to be among most damning.https://t.co/OXYjZyQiuM

— Ryan Goodman (@rgoodlaw) December 3, 2019
It's now clear that the credibility and fate of several institutions is at stake:

— The Republican Party

— The US Senate

— The American Presidency

— The US Constitution

— The Rule of Law

— Reasoned Debate

— Laurence Tribe (@tribelaw) December 3, 2019
The mafia is an organized group of criminals that brokers illegal activities for power and profit. Trump is the Godfather. Bill Barr and Rudy Giuliani are his chief consiglieres. White House staff, Cabinet members and Republican legislators are the Trump family's foot soldiers.

— Tony Schwartz (@tonyschwartz) December 3, 2019