All is well! "You can't remove me with an impeachment trial, I'm (still) the Commander-in-Chief"
The dog wagged once. Did the WH dodge a ballistic missile since apparently there were no casualties in the several Iranian missile strikes in Iraq.
Message sent, but will Trump's apparent lack of policy and strategy actually move Iran closer and quicker to nuclear weapons.
Because Trump's crimes are catching up to him, he jumped at the distracting opportunity to whack a "bad guy". Next time, take the cannoli, Don.
https://twitter.com/realDonaldTrump/status/1214739853025394693?ref_src=twsrc%5Etfw
Trump seems ignorant that the missile strike was about honoring Suleimani since it was timed for the exact time of his death, the location from which the strike was launched, and interrupted his funeral services. It was carefully designed in terms of being framed as being proportional.
Market futures down so Trump hastens to assure the world that "all is well." Of course.

— Roger Cohen (@NYTimesCohen) January 8, 2020
Because Trump's assassination of key officials like Suleimani was supposed to get a better denuclearization deal. Hence withdrawing from JPCOA should allow an all-out attack on Iran to force regime change and/or denuclearization.
https://twitter.com/JuddLegum/status/1214704403405561856?ref_src=twsrc%5Etfw
Trump started a war with Iran.

No one has explained why. https://t.co/KDdwCuVHjT

— Judd Legum (@JuddLegum) January 8, 2020
Minutes after it was reported that Iran had launched more than a dozen ballistic missiles at US and allied forces in Iraq, GOP Rep Michael Waltz told Fox News it could be a sign Iran wants to de-escalate tensions.

JFC. The GOP is completely brainwashed.https://t.co/Br74wAfxmH

— Polly Sigh (@dcpoll) January 8, 2020
"Iran is warning that if there is retaliation for the two waves of attacks they launched their 3rd wave will destroy Dubai and Haifa," tweeted NBC News Tehran Bureau chief.https://t.co/ydzIAfEpzk

— Washington Examiner (@dcexaminer) January 8, 2020
1. I want to express this carefully cause I don't want to minimize anything that results in loss of life. But missiles flying back/forth in Mid East is all too common (something US can handle) & not what makes me nervous about the Soleimani situation

Here's what makes me nervous https://t.co/F2LYk09m5w

— Yashar Ali 🐘 (@yashar) January 8, 2020
2. What makes me nervous is illustrated in the WSJ story. The Iranian government has always operated on its own timeline. If you think Iran lobbing missiles over the border is the kind of revenge they ultimately have in mind, you're wrong.
3. Example: In 2012, assassins kill an Iranian nuclear chemist (likely directed by Israel). Iran promises revenge.
Where does the ultimate revenge take place?
A month later in Georgia, India and Thailand where Israeli diplomats are targeted with bombs
5. Those examples are pretty tight timelines for Iranians. The Iranian gov sees revenge as almost a generational thing…their timeline can be in months/years. Revenge always doesn't come via a show of force they take PUBLIC credit for. 
6. So what I'm saying is all these people with their chest thumping, I would be cautious about what you see as Iranian revenge and unfortunately prepare yourselves for the kind of attacks that are unexpected, that don't follow a tight timeline, and show up where you least expect
7. If people think that this is it…that Iran has chosen to retaliate against the US for killing the second most powerful man in Iran, by lobbing some missiles across the border that didn't result in US casualties then I have a bridge to sell you.
8. I can't believe I'm seeing people saying that this was a face saving move by Iran and now that there haven't been any US casualties, that we should move on.
The level of naivety is astonishing.
Do people really think this is how Iran is going to retaliate?
9. Read Jake's tweet…for those of you thinking this is just a weak response from Iran & that they're terrified of the US mil, ask yourself if this how a nation that has funded attacks globally would respond to the killing of its most important General
US military official & sr admin official tell @rabrowne75 and @PamelaBrownCNN that the *initial* assessment is that the Iranian missiles struck areas of the al-Asad base not populated by Americans though US is awaiting daylight to get a full assessment. Iraqi casualties reported.

— Jake Tapper (@jaketapper) January 8, 2020
10. That may very well be true, but if people think this is the only way Iranians will respond then they're unaware of the reality. So while POTUS is taking the off ramp, the Iranians will sit and wait and do what they want and when they want to do it.
11. The problem is so many people have thought about this situation through the lens of conventional warfare. So they believe if there is no conventional warfare that the situation has deescalated.
But conventional warfare should have never been the concern!
The captain of the U.S. aircraft carrier now positioned near Iran is an Iranian refugee who fled the country 40 years ago. Many Iranians who served in the U.S. military have mixed feeling about the rising tensions. https://t.co/WYtjwfDVvd

— New York Times World (@nytimesworld) January 8, 2020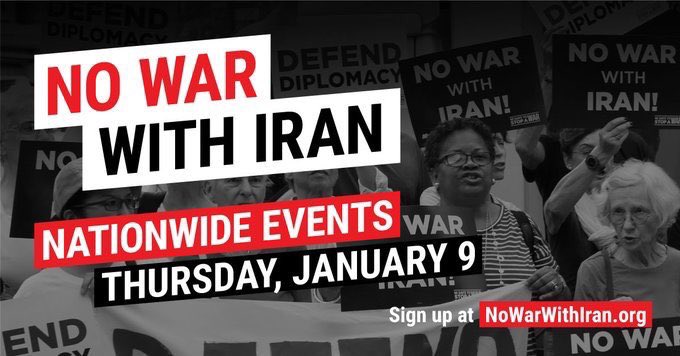 "You're not mopping fast enough. (Laughter) That's a socialist mop. (Laughter and applause) Grab a mop — let's get to work." – Barack Obama (2009); "Soyez réalistes, demandez l'impossible!"