GOP AGs have been busy supporting the Trumpian delusion and sedition. The 1/6 Commission will have plenty of narrative content. Not unlike the mania for appointing Trump judges, the GQP AGs are a cabal that for some evangelicals, theocratically leads to a dominionist (fascist) state. Not unlike the QAnons who believe something, something about 4 March, these past and present GOP AGs have a faith that involves the willful destruction of democracy, if not a violation of their oaths of office. 14th Amendment solutions are obvious.
The Republican AGs' bad behavior is not something new, but as they attempt to deny responsibility and distance themselves from one of the most unpatriotic and darkest days in our nation's history, it's important to understand just how coordinated and connected the Republican AGs were to the insurrection.

Here's a quick overview of what's included in this blog post:

August — October: Republican AGs attack voting rights and refuse to protect democratic norms.

November — December: Republican AGs try to overturn the results of the election multiple times.

January: Republican AGs and RAGA's connection to the Jan 6th deadly attack on the U.S. Capitol exposed.

February: Republican AGs continue pushing the lie that the election was stolen from Donald Trump.

Below is a detailed timeline to help illustrate the un-American campaign waged by the Republican Attorneys General and the Republican Attorneys General Association:

AUGUST 2020

Indicted Texas Attorney General Ken Paxton sues Harris County (largest county) over their plan to send all voters in the county mail-in ballot applications.
Republican Attorneys General FAIL to take action to protect the U.S. Postal Service after President Trump and Postmaster General Louis DeJoy alter mail delivery — with a goal of negatively impacting vote-by-mail.

[…]
#NEW: Republican AGs Attack on Democracy: A Timeline

There's been a lot of separate reporting, but here's a detailed timeline illustrating the un-American campaign waged by Republican AGs & the Republican Attorneys General Association these last 6 months.https://t.co/EJ8TGBZ0oH

— Brandon Richards (@BrandonRichards) February 19, 2021
AHEAD OF THE ELECTION:

August: Republican AGs attack access to mail-in ballots.

September: Republican AGs & RAGA fail to combat significant election disinformation.

October: Republican AGs attack voting rights & refuse to protect democratic norms.

IMMEDIATELY POST ELECTION:

November: Republican AGs (past & present) sow doubt around the results, attack democratic norms & attempt to overturn the results in PA

December: Republican AGs absurdly attempt to overturn the results in GA, MI, PA & WI.
In 2022, there are more than 30 state AG seats on the map including many of the same Republican AGs who drove distrust in our democracy and supported the events on January 6, 2021 that led to a deadly attack.

— Brandon Richards (@BrandonRichards) February 19, 2021
Corrupt TX AG, Ken Paxton,trolling for a Trump pardon, joins a pact with 17 equally corrupted GOP state AGs to disenfranchise voters in 4 other states&declare Trump the winner of the already certified for Biden 2020 election. Vile Trump has birther lawyer https://t.co/cxojDGfKpx

— Where we're going (@jlhoov22) December 10, 2020
Yes! Hitler also rose through legal means. Both remade the courts.

Now GOP AGs are being used as a tool to test our laws and create precedence for "Trumpism" (non-compliance with federal laws, fascist impulses).

Do GOP AGs represent states or one man? https://t.co/fT0aEWey9U

— Amy Shefrin (@AmyShefrin) February 14, 2021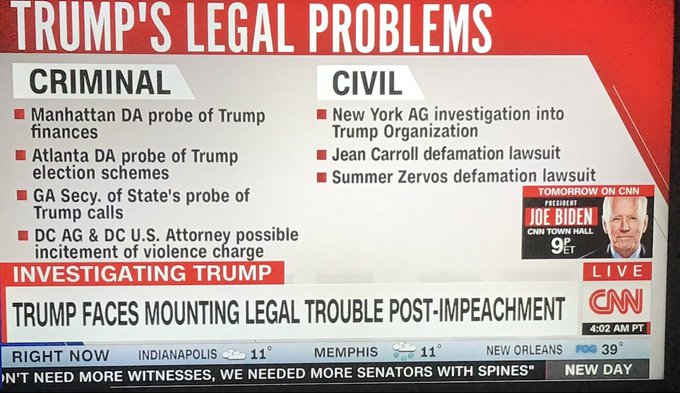 corrupt politicians at every level of government.

To the extent that such a thing exists in DOJ, it was totally undermined by the partisanship of the GOP AGs.

It needs to be a stand-alone entity, not subject to political winds, with leadership that is universally accepted

— Pam Keith, Esq. (@PamKeithFL) February 15, 2021
---
The Politicus is a collaborative political community that facilitates content creation directly on the site. Our goal is to make the political conversation accessible to everyone.
Any donations we receive will go into writer outreach. That could be advertising on Facebook, Twitter, and Reddit or person-to-person outreach on College campuses. Please help if you can:
---