90 minute debate in six parts, Trump will fail because bluster and bull aren't a October Surprise
The toast is not yet burnt. Trump will need to win all three events. Won't happen because all Trump has are bizarre lies and falsehoods.
— Marianna Sotomayor (@MariannaNBCNews) September 22, 2020
-The Trump and Biden Records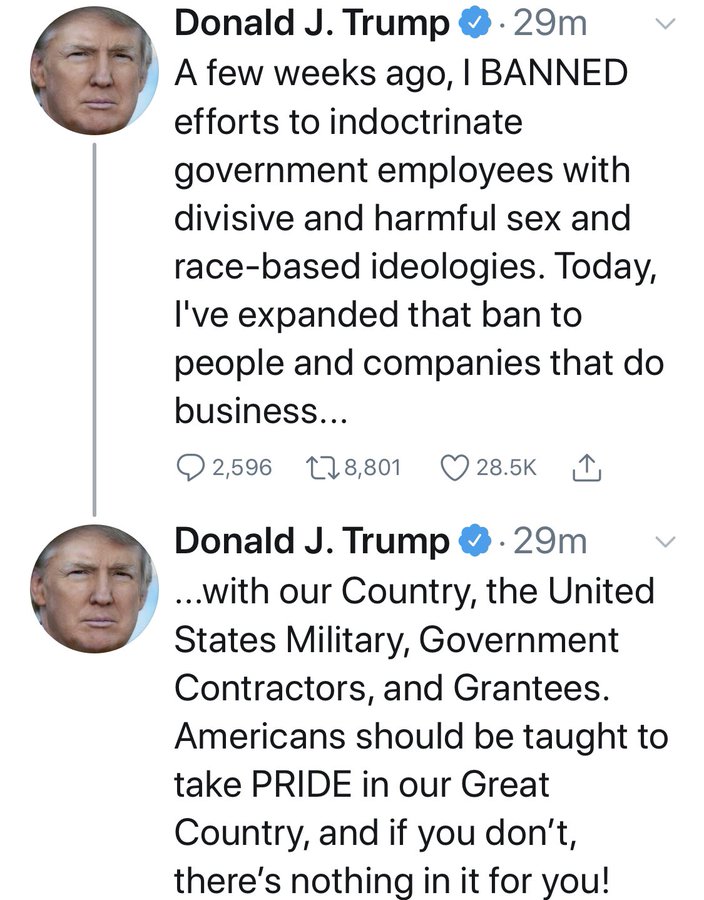 — Nell Scovell (@NellSco) September 23, 2020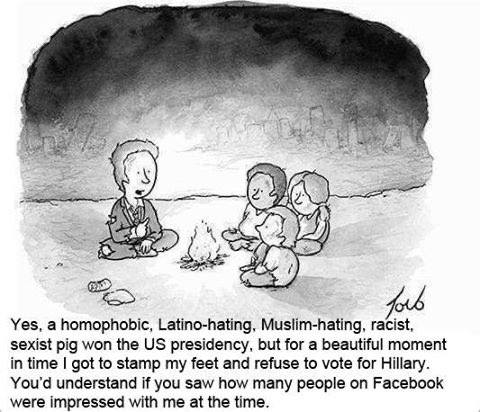 -The Supreme Court
Another bitter Supreme Court confirmation fight could further erode public confidence in government. Supreme Court confirmations have always been political — senators are thinking about their reelection campaign when they vote for or against a justice. But confirming a justice in October of an election year would prove to the public that power is the only factor that matters.

More importantly, confirming a conservative justice in October of an election year (or worse, the lame-duck sessions) would strengthen the case advocated by progressive court-packers. Their argument is obvious: Republicans blocked Merrick Garland (an Obama nominee) in 2016 because they said he was nominated too close to the election, then proceeded to confirm Neil M. Gorsuch in 2017. Then, they hypocritically installed another conservative just weeks before the 2020 election, completely contradicting their own stated principles. To the progressives, the only fair move would be to add new justices to the court to correct what they see as an artificial imbalance.

The court-packers might not succeed initially: Biden has been

noncommittal

on the issue lately, and he has historically

opposed

adding new justices. But if Republicans push another judge through before the election is over, we'd teeter closer to a dystopic dynamic where the parties take turns adding new justices to the court, each time diminishing what little nonpartisan credibility the court still retains.

None of this will stop Trump from nominating a new judge. Team Trump could try to flip the short-term numbers with a popular nominee. And if the past four years are any indication, he doesn't seem to care about the long-term consequences of any of his actions. The best hope is for the Senate to act wisely and delay the inevitable clash until after this election. But asking the Senate to show deliberation and self-control, especially in a year when everything has gone wrong, might be asking for the unlikeliest of miracles.
-Covid-19
— The Washington Post (@washingtonpost) September 22, 2020
his "October surprise" strategy of dangling a possible vaccine before or just after the election will almost certainly fail.
All these complexities will also have to be communicated to a public that's already deeply skeptical of Trump's intentions on this front. Indeed, the very fact that he continues treating the vaccine like a pending cure-all miracle itself betrays the traits that will likely lead countless Americans not to trust him to handle this rollout.
"He's always just trying to make the sale," Konyndyk told me, citing Trump's real estate past. "He's not about solving a complex problem. He just wants to get you to sign on the dotted line."
Finally,
as economic historian Adam Tooze points out
, the development of a vaccine will raise a host of global challenges in terms of coordinating intra-governmental and multinational pharmaceutical cooperation, and distributing it in poor and developing countries. The United States should play an active role. But Trump is snubbing the World Health Organization, which suggests more leadership abdication ahead.
Trump continues to undermine the possibilities of international cooperation. He continues to mock the mask-wearing and social distancing we'll need to keep going even after we get a vaccine.
He has long told the states (which must be equipped for its rollout) to fend for themselves in getting medical equipment. He has screamed at governors in
ALL-CAPS TWEETS
to reopen their states despite public health needs.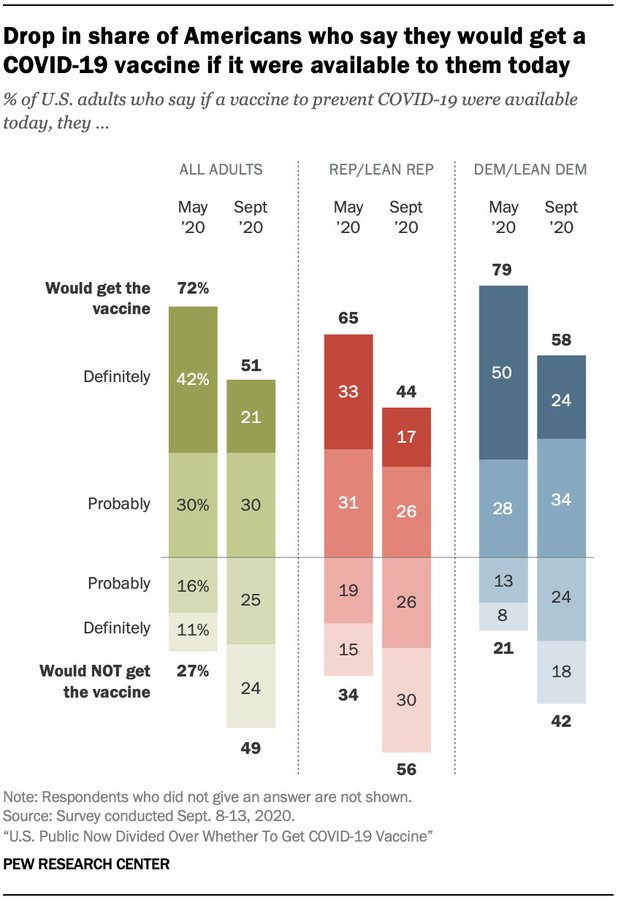 -The Economy
— USA TODAY Money (@USATODAYmoney) September 22, 2020
-Race and Violence in our Cities
— SafetyPin-Daily (@SafetyPinDaily) September 22, 2020
— Radley Balko (@radleybalko) September 22, 2020
— Amy Siskind (@Amy_Siskind) September 22, 2020
-Integrity of the Election
— Jennifer Cohn ✍🏻 (@jennycohn1) September 22, 2020
— Greg Sargent (@ThePlumLineGS) September 22, 2020
— Robert Young Pelton (@RYP__) September 22, 2020
<
p class="is-empty-p">